We would like to wish you and your loved ones a very happy New Year, and a healthy and happy 2018.
Have a wonderful holiday , and we look forward to seeing you this year!
---
You can now make an appointment at our practice any time of the day or night, and any day of the week with the exception of the Chiropractor. You will still need to call Nicole on 3882 5506. Just go to our website and click on the relevant option.
You will then be sent a confirmation email with links which is explained as you go forward. There is also a link to one or more audios for you to enjoy! The first one will explain the process while the second one allows you to experience hypnosis with a stress reduction track.
Do you know that feeling of being so deeply relaxed that you feel blissed out? Some people can be very hard to buy a gift, although almost everyone loves a great relaxing session.
Our Gift Vouchers are a very popular present for Christmas, and they can be purchased online or by giving us a call on 3882 5506.
Is your life being ruled by the on-going impacts and pain of past trauma? Are depression, phobias, panic attacks and anxiety controlling your days and ruling your nights? Perhaps you have sunk into 'survival mode' rather than living a full, rich life which may seem impossible at the moment. Are you at a point in your life where you have given up on even allowing yourself to dream of being free from this 'condition'? Are you seeking a drug-free solution? TRTP can step you through to theother side of your pain. 
DO SOMETHING about your situation. CALL Maureen or Nicole today on 3882 5506 or visit the website 

for more information!
Do you WANT to stop smoking? Then you have come to the right place. People are offered a professional session with Hypnotherapy and NLP to Quit Cigarettes in 60 Minutes. We achieve extraordinary results and success helping people to stop smoking and quit like many others. This enables them to receive the benefits of living a Healthy, Vital, Happy Life allowing them to 'Save Their Lives' and 'Save Money'. This system makes quitting cigarettes easy and it is backed up with a LIFETIME GUARANTEE.
---
Hypnosis is safe and effective. AND – most importantly for you, clinical studies showing how hypnosis helps with weight loss are irrefutable:
In a 9 week study of two weight management groups (one using hypnosis and one not using hypnosis), the hypnosis group continued to get results in the two-year follow-up, while the non-hypnosis group showed no further results (Journal of clinical psychology, 1985).
There has been much research done in this area however the results speak for themselves. Clients love the 
Weight Loss Hypnosis
 as it is changing their minds so they can enjoy healthy foods without the cravings for the bad old foods.
---
Chiropractic Patients
Please note we will be closed between Christmas and New Year, so we will finish on Thursday 21st December, and re-open on Tuesday 2nd January.
As we are likely to be very busy after the break, we suggest you book now for your appointments in January.
Nicole (our amazing) receptionist is available over the holidays to take your bookings. So do give Nicole a call so you can plan your next treatment with Wayne. Call Nicole on 3882 5506. 
Hypnotherapy Clients
Maureen will not be taking time off over the holidays, except the public holidays. Maureen will be away from the 7th January to the 14th January. You can still 
book online for Maureen
 or call Nicole on 3882 5506.
Thanks , and have a wonderful holiday!
---
Rob Hennesy 10/5/17

Just wanted to say thanks for your help ! I've been smoke free since start of March last year. Haven't felt like a smoke since I saw you. I feel so much better. Thank you.
Chris Wood 22/7/2017

About 7, 8 weeks ago I came to see Maureen with severe Alcoholism, it was a very large problem for me as was personal issues I had at the time. Since that time I have not touched a single beer, bourbon or anything of its kind. I have recently committed to the quit smoking. So now I consider myself a non- drinker and a non-smoker. My life couldn't be better. I couldn't be happier! Thank you so much Maureen.
Melissa Bell 5/7/2017

I came to Maureen originally to give up smoking which I gave up smoking a couple of months ago, now I have been a non-smoker since. I came back to do the weight loss as I have a weight issue, and basically before coming in to see Maureen my digestion was so bad that from the age of 13 and on, I had diarrhoea up to 8 times a day, intestinal cramping, I was diagnosed with IBS.
This is my final visit for the weight loss so basically at the moment my health has improved dramatically. I am insulin diabetic, my insulin levels have been dropping and my eating is now close to a quarter of what I used to eat. I had high blood pressure and it has come down drastically. My digestion has now gone to the stage now that I no longer have those horrible symptoms of pain, discomfort. I don't have diarrhoea anymore. It has been the best investment of my entire life.
I would like to say a big thank you to Maureen. I came to see her in October 2015 for the Quit Smoking Program I haven't had a smoke since the day I saw her, so I have a lot to thank her for.
I have recently come in for the Richards Trauma Process and I have just finished my last session, and the change is amazing. My partner, my children, my family have noticed the difference in just a 3 week period, in such a short time. I can't believe how well this works. I would recommend it to anyone and I am, to whoever I speak to. They will be finding out about this and about Maureen.
---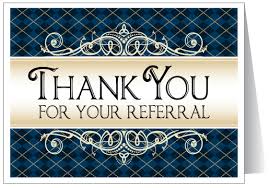 Our thanks to those who have kindly referred their family or friends to the Practice this year and especially to Maureen for Quit Smoking Weight Loss or The Richards Trauma Process.
Much of our business is by referral and at times it is difficult to know who made the referral as it often comes from someone who knows someone else. So I would just love to give a big Shout Out to all those people who have made a referral.
Joyner Health Centre 263A Youngs Crossing Road Joyner Qld 4500
Copyright © 2017 Joyner Health Centre, All rights reserved.

You are receiving this health information because you are a client of our practice, or you subscribed to our newsletter through our website or Facebook site.

Master Your Life Power and Joyner Health Centre, 263A Youngs Crossing Road, Joyner Qld 4500, Australia